Tammy Thai, MSN, APRN, NP-C is our Oculoplastics and Aesthetics Nurse Practitioner.  She brings a wealth of experience to our practice, having trained and worked at some of the top hospitals on the mainland and in Hawaii.  Tammy obtained her bachelor's degree at  the University of California, San Diego, majoring in Human Development.  She then pursued her nursing degrees (BSN and MSN) at The George Washington University, where she graduated summa cum laude and became a board-certified Nurse Practitioner (NP-C).
Tammy was fortunate to train and work as an Operating Room nurse at UCLA Hospital, ranked in the Top 5 Hospitals in the Nation by U.S. News and World Report. For three years, she served as a circulating and scrub nurse where she learned best practices in nursing and how to care for patients throughout their surgical journeys.  After moving to Hawaii, she worked as a Main Operating Room nurse at The Queen's Medical Center, where she gained further experience caring for the most complex surgical patients in Hawaii.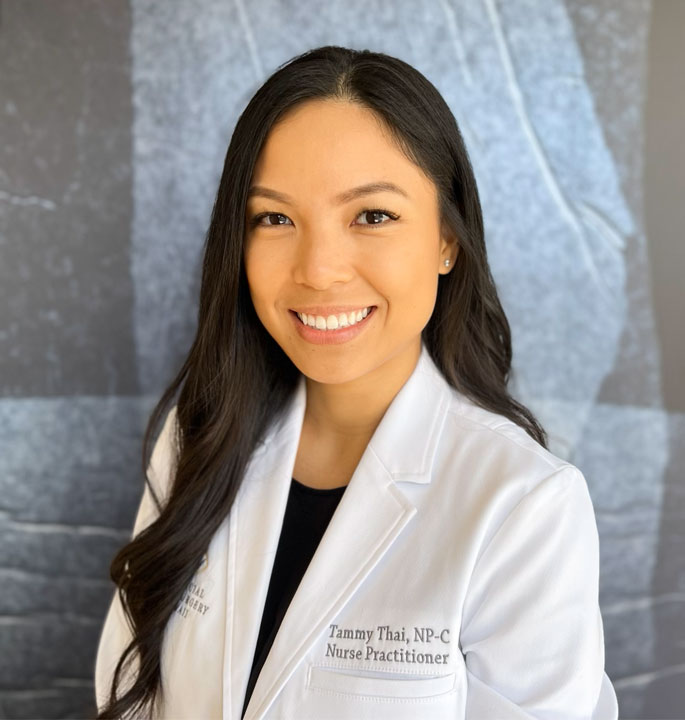 Tammy brings this wealth of knowledge and experience to Oculofacial Plastic Surgery of Hawaii, where she works seamlessly and in close collaboration with Dr. Lee in surgery and in clinic.  She conducts new patient consultations, assists with post-operative care and suture removal, performs minor surgical procedures (e.g. lesion excisions and biopsies, drainage of chalazion/stye), and uses lasers and injections to reduce the appearance of scars. She is thrilled to be working in the field of oculofacial plastic surgery as an integral part of Dr. Lee's clinical team.
Tammy also specializes in non-surgical aesthetic procedures, such as neuromodulators (botulinum toxin injections), dermal fillers, laser skin rejuvenation, chemical peels, and platelet rich plasma (PRP) treatments.  She has attended numerous seminars and trainings on cosmetic injectables, but most importantly, she has trained under Dr. Lee's meticulous tutelage.  She applies her gentle touch, attention to detail, and eye for aesthetics to help her patients look their absolute best using the same best practices techniques used by Dr. Lee.  She wants all of her patients to have their best and most pain-free experience possible, and she is typically available to squeeze patients in on short notice for "emergency" cosmetic procedures. 
In her free time, Tammy enjoys being a mom to her young daughter and Yorkie fur baby.  Having moved to Hawaii as a California native, she enjoys discovering new restaurants, hikes, and everything there is to love about living in Hawaii.