What Is a Facelift?
A facelift is one of the most popular cosmetic surgery options for achieving a rejuvenated appearance. A facelift helps address sagging and aging of the midface, jowls, and neck. It can restore youthful volume to the cheeks, soften the nasolabial folds, eliminate jowls and straighten the contour of the jawline, and improve loose skin and wrinkles on the face and neck. It is one of the most powerful procedures to reverse the signs of aging and "turn back the clock" with long-lasting results.
Below are some of the concerns a facelift can help with.
Loose or sagging skin around the midface, neck, or jawline
Loss of volume in the upper cheeks
Creases from your nose to the corners of your mouth (nasolabial folds)
Creases running down from the corners of your mouth (marionette lines)
Sagging tissue around the mouth and jawline (jowls)
Neck fullness or double chins
Sagging skin or banding on the neck
Facelifts in the past were not what they are today. People often think a facelift will make their face look "stretched," "too tight," or like they have had obvious oculofacial plastic surgery. If not performed using modern techniques or without an artistic eye, a facelift can lead to an unnatural appearance, visible scars, or changes in the hairline. If done well, they should look completely natural. You should look like yourself, just 5, 10, or 15 years ago.
Facelift Options
The facelift option that best suits you can depend on your age, overall health, signs of facial aging, and tolerance for downtime. Below are the options Dr. Lee offers his patients.
Full Face and Neck Lift
This procedure is the most comprehensive treatment to address the sagging and gravitational descent of the face and neck. It uses an incision that is hidden in the natural folds and creases in front of the ear and behind the ear. There is also a small incision underneath the chin. This procedure is appropriate for patients with extensive fat and loose skin in the neck area who are concerned by both the face AND the neck. The surgery involves tightening the deeper tissues of the face and neck and then removing excess skin. It is a great option for patients who are relatively healthy, do not smoke, have extensive sagging, and don't mind some downtime. It has excellent durability and is the most powerful facelift.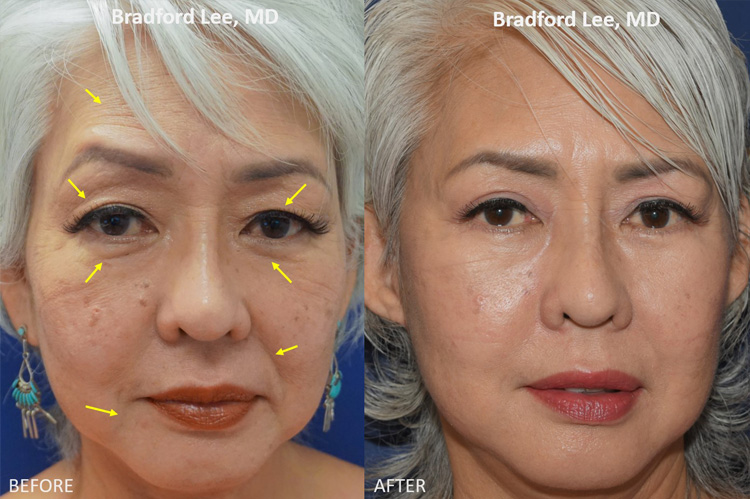 This 60+ year-old lady was bothered by excess skin on the upper and lower eyelids as well as mid-face descent, and mild jowling. She underwent a quad blepharoplasty, upper lid ptosis repair, and mini-facelift to restore a more youthful appearance to the eyes and face.
Mini Facelift
A mini facelift is for the patient who wants to address facial sagging but is not too bothered by the neck. Some patients do not show much aging in the neck region or have mild changes that don't bother them. This procedure focuses on addressing FACIAL aging and provides only modest benefits for the neck. There is a short incision hidden in the natural creases along the front of the ear to the earlobe, but the incision does not extend all the way behind the ear (like with the full face and neck lift).
This surgery tightens the deep tissues of the face and removes excess skin. It takes less time, is less invasive, and has a quicker recovery than the full face and neck lift. It is a great option for patients with mild to moderate facial sagging, who are not too concerned about their neck, and can tolerate some downtime. They should be relatively healthy and have facial aging that cannot be adequately addressed by non-surgical options.
Non-Surgical or "Liquid" Facelift
This procedure uses a combination of dermal fillers, botulinum toxin, and laser skin rejuvenation to address the global signs of facial aging. It is a good option for patients who only have mild facial aging, want something more conservative, are not "ready" for a facelift, or are smokers or not healthy enough to have surgery.
It does not address significant laxity of the neck or jowls. It also requires more maintenance since the effects of dermal fillers and botulinum toxin do not last as long as a surgical facelift. Nonetheless, it can yield dramatic results in the right patient. It is very low-risk, can be done in-office, and has minimal downtime.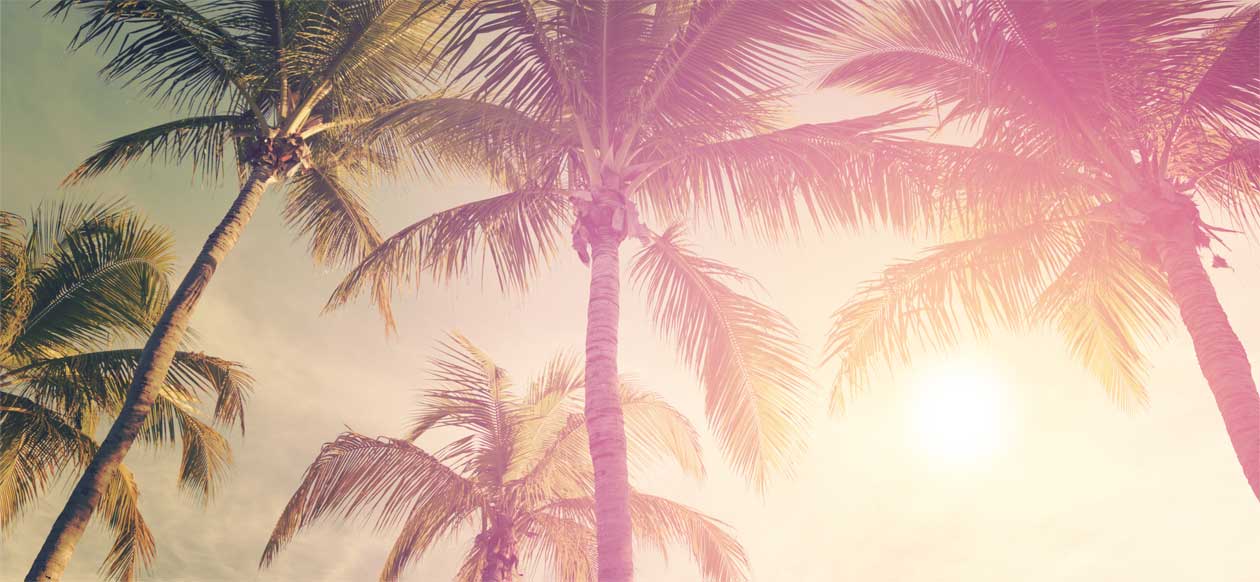 How Does the Procedure Work?
Your procedure will depend on your type of facelift and any other procedures you decide to combine with it.
Surgical facelifts take several hours to perform but can be done as an outpatient procedure with IV sedation. Dr. Lee does not use general anesthesia, so his patients are very comfortable, do not have the risks involved with general anesthesia, and recover quickly after surgery. Patients typically go home about 30 minutes after surgery.
Non-surgical "liquid" facelifts are done in the office and have much faster recovery. Many patients only use anesthetic cream that is applied to the face before the procedure. If a laser treatment is being performed, patients may opt to have some oral sedation. The procedure usually takes about 1 hour with results that last for several months up to 1-2 years. It requires periodic treatments to maintain the results, typically 1-2 times per year.
How Does Dr. Lee Customize Your Facelift?
We start with a full facial evaluation where Dr. Lee will listen to your concerns and then discuss the options to reverse the signs of aging. Everybody has a different facial structure, and faces age differently over time. Dr. Lee will discuss the risks, benefits, and what makes the most sense for you given your age, health, anatomy, and personal preferences. Whatever the plan may be, the results will look and feel natural. It should look just like you but a refreshed, revitalized, and more youthful version of you.
Dr. Lee can also help you build a comprehensive rejuvenation plan, combining a facelift with other procedures. Popular procedures to combine with a facelift with include:
Upper eyelid surgery
Lower eyelid surgery
Brow lift
Fat transfer
Laser skin rejuvenation
Chemical peels
When done in combination, these procedures provide comprehensive facial rejuvenation and a stunning, vibrant look.
Why Do Patients Prefer an Oculofacial Plastic Surgeon for a Facelift?
Many patients ask why they would see an oculoplastic surgeon rather than a plastic surgeon for a facelift. The truth is that not all oculofacial plastic surgeons are trained to do facelifts. By the same token, there are plastic surgeons who do beautiful, natural-looking facelifts and others who do terrible, unnatural looking ones. Many patients come to Dr. Lee because of his particular expertise around the eyes and face.
Ultimately, it comes down to training, attention to detail, and having an eye for aesthetics. Dr. Lee learned to perform facelifts with the best oculofacial plastic surgeons AND plastic surgeons in Southern California during his training. He has written book chapters, lectured at multi-specialty cosmetic surgery meetings, and taught surgical dissection courses in the U.S. and Brazil on cosmetic facial surgery and facelifting. Because he does not do surgery on the rest of the body, he focuses all of his time and expertise on facial rejuvenation.
What Is the Downtime After a Facelift?
Most patients will take about two weeks off after a surgical facelift. During this time, we recommend avoiding strenuous activities, and instead focus on giving yourself time to rest and recover. We will also provide you with a full list of facelift recovery instructions to ensure that you get the best results possible with a shorter recovery.
During these first two weeks, you can expect some swelling and bruising. Dr. Lee will remove sutures about 7-10 days after surgery. There is minimal pain after surgery, which can be managed with pain medications, but many patients just use Tylenol and ice. We will gladly work with you to provide additional help and care tips.
Dr. Lee sees patients the day after surgery to remove a small drain that collects any fluid over the first 24 hours. Patients wear a facial support garment 24/7 for the first week and then only at bedtime for the next week.
After 1 month, patients are already looking quite good. Final results are at 2-3 months when all of the swelling has resolved. Some patients are concerned that they don't heal well or may form prominent scars. Dr. Lee uses special techniques to help patients conceal incisions, heal well after surgery, and reduce/fade scars even after surgery. Once you are done healing, your results will be with you for years to come, and you will feel great about putting your best face forward.
Schedule Your Consultation Today
Take the first step toward facial rejuvenation today and schedule an aesthetics consultation. During your one-on-one meeting with Dr. Lee, he will work with you to determine the best options for your goals. We will work to tailor your experience and results to your unique needs.